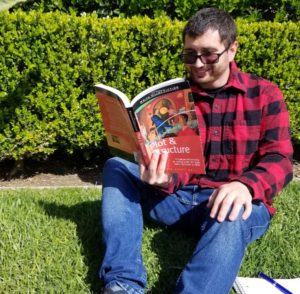 Hello Friends!
I am C. D. Baron, a 26 years old male, hailing from a small suburb in California. Stories give me air to breathe and have fascinated me since childhood. If I wasn't at school or playing videogames with friends, I was home, writing the next masterpiece novel – at least in my mind.
Writing since middle school, where I wrote terrible sci-fi and fantasy novels that never went anywhere, I am now in the first year of my creative writing master's program. I have my bachelor's in screenwriting, which I studied for five years. It is my goal to help writers become the best they can be, and I want to be a published author within the next five years.
My current work in progress is a young adult fantasy series set in a magical world filled with fantastical creatures and wonders. The entire elvine race has vanished off the face of Symphonia during a war with the tamalir until Helana Glasglo, a 22-year-old elvine woman, finds her way into the known world, discovering long lost magic, war, and deceit first hand.
I am in the process of submitting short stories to magazines and entered The Writer's essay competition and am awaiting results!
With Writing Tips and Sips, I aim to help writers like you along your own journey, building bridges where I have stumbled, and sharing knowledge as I learn it during my own journey. Looking forward to joining our writing adventures!
-C. D. Baron
The following two tabs change content below.

C. D. Baron
Here at Writing Tips and Sips, I aim to help aspiring fantasy writers – like yourself – become the best that you can be. Grab some coffee and sip while enjoying a plethora of writing advice as well as tips on world-building, for every level. Included within this site is my world-building, book bible for Symphonia, used as an example for advice that we offer. Looking forward to working with you! -C. D. Baron

Latest posts by C. D. Baron (see all)