This weekend, my fiancée and I took a mini-vacation to Las Vegas. You know what they say, "what happens in Vegas…"
We needed a getaway from the monotony of our day to day and wanted a change of pace. We went to all the different hotels and played in different casinos, and it was an absolute blast. However, I still had writing I needed to get done. I couldn't just forget about you – I have a blog to run.
Walking down the strip, hand in hand with my fiancée, was a fantastic reward after spending a couple of hours on my blog in the hotel. I loved seeing the lights and the fancy buildings made to look like world monuments, listening to people chat and awe over the sights. It was something else.
Now how does one stay focused and work during a time of vacation?
Isn't the point to get away from work?
Yes, it is. However, writing is life. It helps me manage my depression and gives me something to strive to achieve consistently. If I don't write, I feel my mood instantly drops.
So today, I wanted to share how to maintain your writing routine, even on vacation. As writing for any writer is a process and an integral part of the writing life. So here are three tips on maintaining your writing routine while away.
1.Keep a Journal: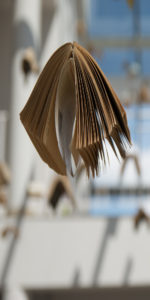 One of the first items I made sure I packed was my leather-bound journal and my favorite fountain pen. I write in that thing nearly every day, and it has helped me immeasurably. I store my hopes, dreams, aspirations, worries, and everything in-between, and the act of writing in it helps me maintain a practice with writing.
I have an article talking about the benefits of journaling and why you need one here if you are interested in learning more about journaling.
I recommend bringing a journal on vacation because, like a camera, it is an excellent place to record your memories of what happens while you are away. Unlike a camera, you can record the image in a much more personal way. You can recount the feelings that were brought up, how specific memories happened, and you can include all the senses with your words.
A picture may be worth a thousand words. However, a journal entry can transport you right back into the moment and allows you to relive it again. Another benefit of journaling your experience is added time practicing your craft. It takes 10,000 hours to become a master, and journaling allows those hours to add up without thinking about it.
Journals are personal and something you can carry with you always. If you do not want to carry around a physical journal, you can also take a couple of moments and journal in your phone's notes app. It's definitely worth a try, and the best part; there are no rules in how you must write in your journal. Write in circles if you feel so inclined!
The next tip is to…
2.Set Aside a Free Moment: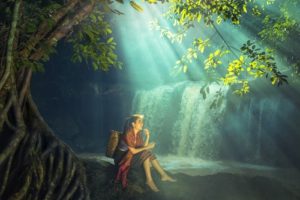 Vacations get very busy! Often, I have a bunch on my itinerary, and I want to see all I can possibly see during my time in a new place.
In Vegas, we wanted to visit all the hotels, ride the gondolas in the Venetian, go to the pool, eat a fancy dinner, and come back millionaires.
We didn't get everything done, specifically coming back to a new wealth class. Still, we had a lot of fun sightseeing and enjoying each other's company.  However, even though we were busy, some of our most fun memories were back in the hotel room, giving ourselves a break from the constant going.
It was during these breaks; I found a moment to write. I could journal about the day's events, work on a new article, work on a passage of my book, and it was freeing! After our break, we would be right back on the strip, getting dinner, and finding our next machine to vanquish.
Giving ourselves moments to write and relax helped release any stress of trying to do too much and gave the vacation a more free flow feel. The little moments of quiet are filling to the soul, especially of a writer.
And finally, the last tip…
3.Enjoy Your Vacation
Now, being a writer does not mean you must write every single day – all the time. The fact is, you're on vacation and need the break. You are not going to write every single day.
That is perfect!
Take the break. I did not write every single day of my Vegas vacation. I did get some writing done. Still, I wanted to spend time with my fiancée and some days that did not include writing.
Your journal, laptop, notebook, will be waiting for you. Enjoy yourself and have a good time. If you feel an inclination to write, do it! If not, that is perfect too. Don't. What matters most is what helps you most enjoy your vacation. If it's writing, you need a break from: take that break!
One weekend or a couple of weeks will not ruin your writing. Sometimes, stepping away is the best gift you can give your work in progress. You can return to it with fresh eyes and a clear mind. Often, that is more productive than trying to force yourself to write.
In Conclusion: have fun! If you enjoyed this article, let me know in the comments below and share any tips you have for writing on vacation!

The following two tabs change content below.

C. D. Baron
Here at Writing Tips and Sips, I aim to help aspiring fantasy writers – like yourself – become the best that you can be. Grab some coffee and sip while enjoying a plethora of writing advice as well as tips on world-building, for every level. Included within this site is my world-building, book bible for Symphonia, used as an example for advice that we offer. Looking forward to working with you! -C. D. Baron

Latest posts by C. D. Baron (see all)